Websites are a more powerful marketing tool than ever in today's marketing environment. As a 24/7 salesperson, your website can be your most valuable asset and the focal point of your marketing activities.
However, in recent years, web design and development have evolved from a single-page layout to more of an app-like experience. This shift in web design is largely due to the influx of mobile devices and web browsing habits that have changed with them.
For web designers to keep up with these changes, they need new tips and tricks on how to improve their site's user interface (UI) and user experience (UX). The following 8 UI/UX design tips are designed specifically for web designers who want their sites in 2022 to be at the forefront of this evolution. They won't guarantee success but will give you a good start if you follow them closely.
What Is UI UX Design?
UI/UX design is the process of designing websites and web applications with a focus on the user's experience. The goal is to create a site or application that is easy and enjoyable to use while also meeting the business goals of the company. Good UI/UX design will consider the needs of all users, including those with disabilities.
To achieve these goals, a web designer must have a good understanding of both UI and UX design. UI design is focused on how the interface looks and behaves, while UX design takes into account how users interact with the site or application. A good UI/UX designer will be able to create a visually appealing site that is also easy to use.
8 Tips to Improve UI/UX Design of Your Website in 2022
1) Use White Space
Many companies complain that their website has too much white space and that this wasted space should be used to promote more of their services. However, white space is very important for good design. White space improves the legibility of your content while also drawing the user's attention to the elements around the text.
White space surrounding text and titles improves user attention by 20%, according to Crazy Egg. Additionally, white space can help your website seem more open, fresh, and modern. If your branding aligns with these attributes, it can help you communicate those feelings to the visitor. However, one disadvantage of white space is that it takes up space.
2) Provide Unique and Engaging Content
The key to a strong website UX is to provide engaging content. Consumers now expect more from a store visit than just a purchase. A great way to do this is to provide effective content.
Using content to develop a brand identity ensures that prospective customers have a better understanding of who they are buying from. The content can be of any form, such as a vlog, a blog post, or a photo gallery.
Familiarity breeds trust; 82% of customers are more inclined to trust a company after reading its content (source).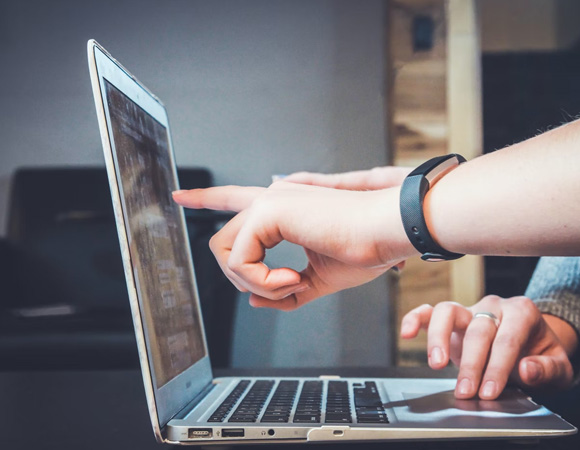 3) Improve Page Speed
Every second counts when it comes to website load time! Between 1-2 seconds is the sweet spot for loading times. That's when you'll see the most conversions. The bounce rate increases when a website takes longer than 3 seconds to load. The rate skyrockets from 9% after 2 seconds to 38% after 5 seconds. Most consumers come with a specific goal in mind and are impatient. Therefore, optimising website loading speed is crucial to satisfy them.
4) Avoid Using Stock Images
Images are great because they catch the user's attention, provide a break from the text, and help to convey messages more clearly. However, this is not something that every image can do. Original images help express a better message and improve conversion rates by roughly 45%, but generic stock images fail to connect and impress consumers. Original images convey a customised message to consumers, which helps build a connection with them.
5) Use Bullet Points
Nothing brings users more joy than easy-to-absorb content. Bullets are a great way to split long sentences into easy-to-read bits and highlight important information. If you had a choice to read between a large chunk of text and a few bullet points, which one would you prefer? Bullet points, right? That is exactly what we are saying. Bullet points engage consumers, help them find important information, and make it easier to remember.
6) Use Appealing Call To Action
CTAs prompt users to take action. It improves user navigation while also increasing conversion rates. CTAs should be visible on every page of your website and at every point of the user experience. Buttons can be improved with the use of appropriate colours and textures to make CTAs stand out. Equally important is the CTA's placement and the text that appears on them. The text should include an action verb that encourages the user to take action.
7) Consistency Is Key
Consistency means making sure that all the elements of your website match. This includes font choices, spacing, heading sizes, button sizes, button styles, etc.
To ensure that your user has a pleasant experience when navigating around your site, it is important that they know they are still on your site. Your visitor may get lost and confused due to drastic design changes from one page to the next, and they may abandon your site.
8) Make Sure Your Website Is Responsive
Smartphones are generating a lot of traffic to many websites, so you need to make sure yours is responsive. So you'll be missing out on a large number of users if your website isn't mobile-friendly and responsive. Mobile optimisation benefits your website's SEO as well. The design should be adaptable enough to work on any device, regardless of screen size. In today's UX design process, most designers use a mobile-first strategy.
Final Thoughts –
UI/UX design is essential for any website. To create a great user experience and keep your visitors engaged, you need to follow some simple tips. These UI/UX design tips will help you identify the important elements that will help your design connect with your users and make interaction easier for both you and the users.
If you are looking for help with web design and development, Weignyte can assist you. Our team of experts has years of experience in creating beautiful and user-friendly websites. Contact us today for a free consultation!